Advanced Cure Diagnostic Center Abu Dhabi, UAEInformation & Communication Technology Manager (Apr 2011 on wards)
Accountabilities:
Currently reporting to the Chief Operating Officer (COO) and leading a team of 15 resources for Administration/Operation of several Healthcare Solutions (Hospital Information System/Radiology-PACS/Audiometry, Dental, Cardiology, Gynecology, and Ophthalmology Modalities).
Accountable to lead the team for providing support services to the computing hardware, networking equipment, platforms (OS) and systems services.
Managing finalization of IT Strategy/Policy/Procedures, IT Budgeting, Information Security Management policies, VOIP Administration and the Application Development Team.
Responsible for arranging fully redundant & high performance/availability for Servers, Storage, UPS & Backup, Information/Data & Network Security.
Involved in establishing the IT master plan, strategy, budget for the organization, utilized IT resources for set of objectives and database Administration in MS SQL Server.
Spearheading execution of multiple projects like Upgraded Network Infrastructure (to CISCO) of Main Branch, Implementation of IT Infrastructure for new Branch Clinic, Network Connectivity through Wireless P-P Device and Service Support Management.
Providing deployment of NetApp Storage, Quantum Autoloader, IBM Storage (Raid 6 with 2 Arrays Internal Mirroring + Dual Controller).
Coordinating other IT functions including data center management, vendor relationships, technical support, application development, financial monitoring and disaster recovery planning.
Performing routine team administration tasks as well as team development and people management initiatives.
Performing Marketing functions like Online marketing, Social media marketing, optimising SEO for website, managing CMS for website, Group Mailing /SMS Blast of newsletters to Patient database.
Achievements:
Deployed new Specialty Clinic Infrastructure for multiple physiological treatments, New Modality Installations and Laboratory Information System Integration with Lab Modalities and HIS
Consolidated and stabilized servers improving hardware uptime from 75% to 99%
Improved the performance of HIS & reduced downtime from 35% to <3%,
Enhanced HIS to Health Authority Standards & reduced Insurance rejection rate from 10% to <4%
Centralized & consolidated the whole IT services offering for other site from HQ.
Coldwell Banker Real Estate LLC, Dubai, UAESenior IT Specialist (Apr 2010 to Apr 2011)
Accountabilities:
Reported to the Vice President (VP) and supervised 3 resources to establish the IT master plan, strategy and budget for the organization, utilized IT resources for set of objectives, IT Service Support in terms of Server Administration/ AVAYA VOIP Administration/Desktop Support/Database Administration/ERP Support/ Network & Infrastructure Security/Database Administration as well as execution of multiple IT projects and maintained proper documentation concerning IT systems and assets
Reason for Leaving:
For better Growth in Career and Financial
Previous Assignments
Tricorp Group, Dubai, UAE as Senior IT Administrator (Jun 2009 to Apr 2010)
Reason for Leaving : No Career Growth, as it is into hospitality major was in Graphic Designing
Dewan Al Emara Architects & Engineers, Dubai, UAE as IT Administrator (Jul 2008 to Jun 2009)
Reason for Leaving : Due to Recession, company was facing Financial difficulties due to lack of project
Mawaride Consultancy .Com FZ LLC, UAE as System Administrator (Jul 2007 to Jul 2008)
Reason for Leaving : Company Shifted to South Africa, so my options were either to move with them or to stay in UAE by finding a new job
Kerala State Electronics Development Corp. Ltd., Kerala , India as Engineer (Jun 2005 to June 2007)
Reason for Leaving : Happy with the job, but to get better career growth and financial benefits moved to UAE
---
---
Social Media
---
Powered by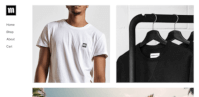 Create your own unique website with customizable templates.

ICT Manager Health Care